Huish Champflower – 60th Annual Village Fete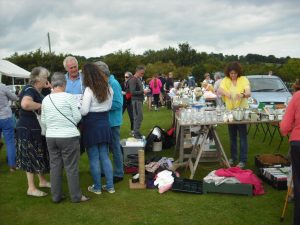 The Huish Champflower annual village Fete was held at the Village Hall and St Georges Playing Field on Saturday 2 September 2017.
The weather was fine and bright which encouraged a good attendance by both local residents and visitors alike, who were entertained by a variety of stalls and attractions. Sporting challenges were provided by Skittles, Childrens Races and Jumpee Joes Bouncy Castle.
Throughout the afternoon musical accompaniment was provided by Wivelele, a renowned Ukulele group from Wiveliscombe, who regaled everyone with renditions of a wide variety of songs taken from their two song books including "You aint nothing but a Hound Dog".
Mike White's amazing traction engines were on-show together with a replica of the first ever automobile which was designed and built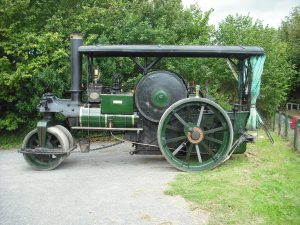 by Karl Benz in 1885 and attracted considerable interest.
The village PCSO, Jo Dawson, NHW Co-ordinator, Jacqui Smith, and Village Agent Gaby Bellamy, came along to meet people and the village First Responders were also on hand in case people were overawed by the proceedings, but thankfully were not called upon.
Various raffles and prizes were won during the afternoon, the Golden Bucket probably the biggest prize of the day at £49, which was won by a local lady.
The Dog Show was a great success and the Dog Show Organisers and Fete Committee's thanks goes to the Judge, Paul Yates of Deane Vets and all the helpers involved on the day. The prize for the Champion Best in Show was won by Tomma Nares with her dog Gumber.  To view all the Dog Show results please click here 170906 – Huish Dog Show Results 2017
The Produce Show attracted a total of 25 entrants.  It was lovely to see new people entering and it is hoped they will enter again next year.  The winner of the Murdoch Cup for the highest points overall was Bea Martin.  To view all the Produce Show results please click here 170906 – Huish Produce Show Results 2017
At the end of the afternoon Olivia Winterton was presented with a card and bouquet in recognition of her many years helping to organise the Fete.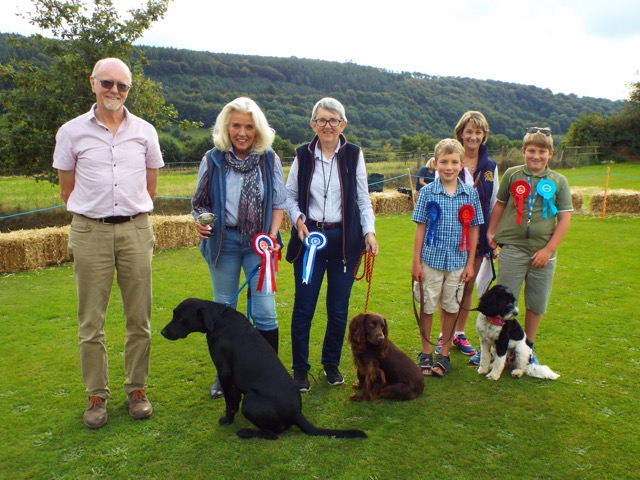 John Moore, Fete Facilitator, who did a sterling job with a roving microphone on the day, confirmed that a total of just over £2000 was raised and the money will be shared between the Church, Village Hall Cricket Club and the WI. He was keen to say that a big thank you is well deserved by all who made the event possible and to those who came along to support it – THANK YOU.
John said "It is truly amazing to see a green field in the morning and a green field at the end of the day, yet in between so many people have come together to produce a fete enjoyed by all. I would like to thank everyone involved for providing such a wonderful day and to all those that came along to take part and provide the finance.  Truly a day to knock your socks off."
To view a copy of the Produce Schedule please click on the link below:
Produce Schedule – Huish Fete 2017
To view a copy of the Dog Show Schedule please click on the link below: