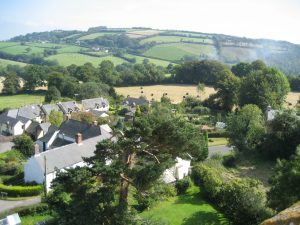 Huish Champflower (OS grid reference ST045295) is an ancient, small, rural, West Somerset community of around 250 people, situated on the fringe of the Brendon Hills and Exmoor, just over 3 miles northwest of Wiveliscombe, 6.5 miles east of Wimbleball reservoir and 1.5 miles south of Clatworthy reservoir. The parish measures nearly 4.5 miles from Heydon Hill in the south to Brendon Hill in the north.
Huish Champflower is mentioned in the Doomsday Book (as Hiwis), and some believe that it derives its name from the Saxon word for homestead (hiwisc) and the family name of Thomas de Champflower, who was a 12 century Lord of the Manor.
Others believe that the name Huish Champflower must come from the french Champs, meaning field, and fleur meaning flower as Champflower is a manorial suffix used by the early Norman owners who were the Champfleur family from Normandy in France.  There are other meanings for the word "Huish" which can also mean 100 acres – so maybe the original name derived from 100 acres of flowery fields!
The southern boundary of the parish is Heydon Hill (c. 338 m.) which rises above the small settlement of Huish Moor, to the west of the river Tone. To the north the parish extends to the steep slopes of the Brendon Hills. The western boundary follows a small stream.
To the north-west the parish reaches Brendon Hill (375 m.) and to a further ridge measured at 396 m. The open ground boundaries on Brendon Hill are marked by a Bronze Age monolith known as Dun's Stone and also by a stone named in the 12 century as Doleston. There are also three ancient barrows close to the boundaries – one near the Brendon ridgeway and two on Heydon Hill.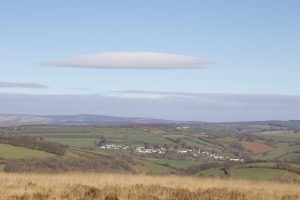 Much of the geology of the parish consists of slates, siltstones and sandstones and a number of small, now un-worked quarries can be found throughout the parish.
The main settlement area lies in the southern part of the ancient parish, close to the 15 Century St Peter's Church. There are a number of smaller outlying settlements (the largest being Huish Moor) as well as a number of farms.