Hello and welcome to the community website for the Parish of Huish Champflower.
We thank you for visiting our website and if you would like to contribute, make any comment or suggestion we should welcome your feedback.
If you have any queries or questions, please Contact Us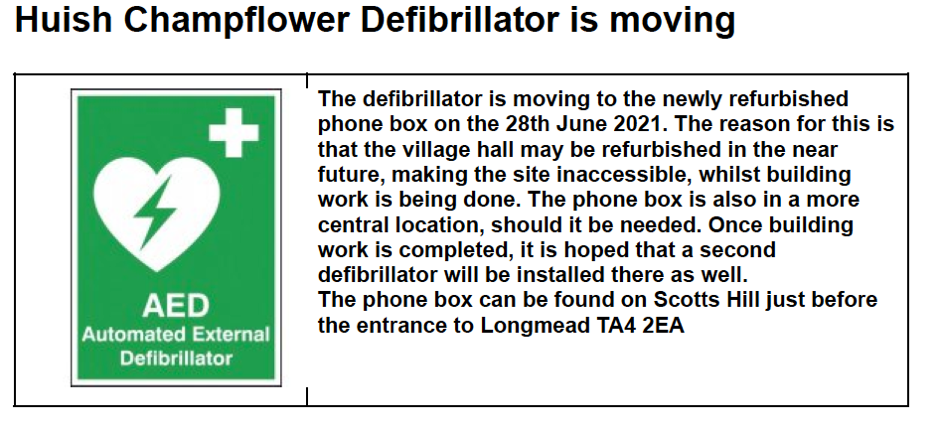 Parish Council Meeting – July – due to current restrictions this meeting is cancelled. The next meeting is scheduled for September. Details will be posted on the website.
Agenda and Minutes of previous meetings can be found here.
Fibre Broadband – residents living along the route of the recently installed Openreach fibre line can now order FTTP to gain access to significantly faster broadband. Visit Openreach.com or your current provider for more information. And don't forget that if you live beyond the reach of Openreach, you might be able to obtain a fibre connection from Technological.co.uk
Hands, Face, Space & Fresh Air
Work from home if you can and only travel when necessary
If you have symptoms get a test and stay at home
Click on these links for information on local support:
Below is a listing of local food suppliers and other service providers (courtesy of Wivey Community Office).
If you have any additions to the above then please advise via this website.
A link to the NHS 111 service can be found here
Only call 111 if you cannot get help online.
Road Closures – Please check travelsomerset.co.uk for information on roadworks/closures.
Reckless & Dangerous Driving Threatening Safety of Horse Riders – The Parish Council has received reports of a few recent incidents involving reckless and dangerous driving behaviour creating a very real danger to local residents as they ride their horses. A number of riders are now wearing bodycams to capture video evidence which will be reported to the Police.