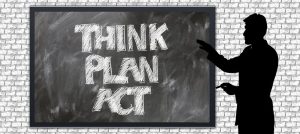 The Government Rural White Paper 2000 provided rural communities with an opportunity to influence their local environment, in the form of a parish plan.  A Parish Plan provides everyone in a community the opportunity to influence the development of their surroundings.  A Parish Plan provides the Parish Council a mandate to work towards improving the life of residents now and to respond to the future needs of the parish.  The Parish Plan is a valuable tool to use to attract project funding.
The development policies of West Somerset Council and Exmoor National Park mean that it is unlikely that there will be any significant building development within the parish, so the emphasis of our plan is focused on social and environmental development, and we have evolved a list of aims, some of which are long term, but others are already being realised:
This website is one proposal within the plan, providing a resource for residents and visitors alike
The formation of a new Huish Champflower Village Hall & King George V Playing Field committee, involving a greater number of residents, is the first step in our ambition for a new Village Hall building
To develop and maintain our footpaths and bridleways, including working toward establishing a new, safe, off-road route between St Peter's Church and the Village Hall
The participation of all residents is encouraged. If you have a view to express or would like to become involved in the future development of the plan please get in touch through this website, the Parish Council, or direct to a member of the Parish Plan steering group.
---
Parish Plan 2010
Parish Plan 2013
Huish Champflower Parish Council discussed and agreed (11 June 2013) that the timing for an update to the 2010 Parish Plan was appropriate. The previous and more detailed Parish Plan Survey had been conducted in May 2010. A shorter, interim survey was agreed to be "best practice". The next more detailed survey for 2017 is in planning.
The Parish Council discussed the content of the survey questionnaire and agreed a set of questions to enable:
 A quick update to the existing Parish Plan Survey
Inclusion of views of residents new to the Parish since 2010
Assessment of the views of residents toward a number of locally controversial (current and prospective) issues – enabling the Parish Council to better understand and represent the views of residents
To view the findings please click on the following:
Huish Champflower Parish Survey 2013 v2
---
Parish Plan 2017
In late 2016 it was agreed by various Parish groups (Parish Council and Village Hall Management Committee) that a thorough refresh of our Parish Plan was required.
In early 2017 a household survey was undertaken. The initial Draft report of the survey findings is now available to view (click on link below).
Huish Champflower Parish Survey 2017 Results
Further work now needs to be undertaken to develop these initial findings into a coherent Plan for our Parish.
If you would like to join the small group of residents involved in this project then please contact Hall@HuishChampflower.org